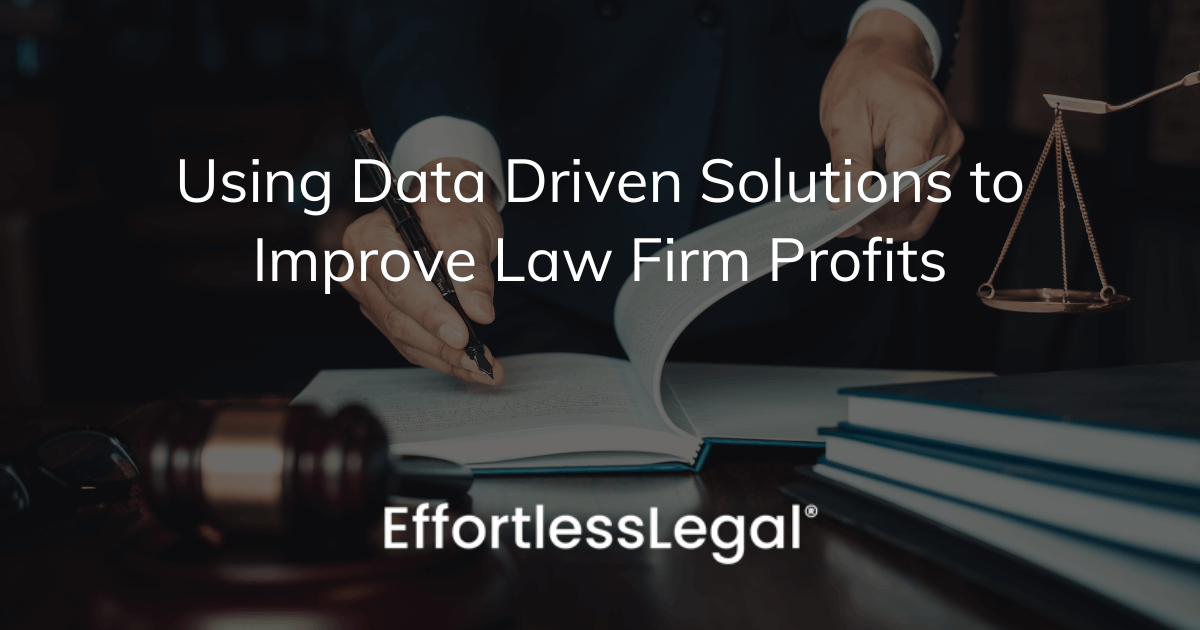 Uniformed Task-Based Management System (UTBMS) billing codes have been used for over 20 years to help both law firms and clients track the cost of legal tasks and expenses. By using UTBMS codes, billing data becomes much more standardized and capable of reliable analysis.
This heightened level of accuracy and uniformity allows billing data to be used to improve collection and realization rates, thereby increasing revenues and profits.
Moreover, when applied to previous and current billing and collections data, machine learning and artificial intelligence (AI) can improve performance and help prevent unnecessary non-billable work. More accurate budget and staffing projections can be produced from the marriage of billing data and its underlying work product. This allows both law firms and legal departments to optimize their planning to maximize the allocation of their resources.
This article will serve as an overview of how properly UTBMS-coded billing data can help law firms and legal departments improve their profits.
Standardization of Legal Billing Data
It is difficult to make heads or tails of vaguely described services, recorded by multiple timekeepers on the same day. It's equally difficult to parse through overly long task descriptions that included multiple different activities in the same block of text.
Recognizing the need for a solution, the American Bar Association, the Association of Corporate Counsel, and PricewaterhouseCoopers came together to develop and distribute a unified task-based billing standard for practice management. This standard was named the Unified Task-Based Management System (UTBMS).
The UTBMS assigns specific codes and categories to specific legal tasks and expenses.
This gives both clients and the firm itself a clear view of what specifically was done, what resources were used, and for how long. It is this specificity that aids in analysis, alerting the firm and the client to areas that may need attention.
With the new way of categorizing legal billing entries came a new way of formatting invoices to allow easy transfers of billing data. To address the issue of varying invoice formats, the LEDES Oversight Committee (LOC) created "open standard formats for the electronic exchange of billing and other information between corporations and law firms." The in- voice formats created by the LEDES Oversight Committee were named LEDES formats.
LEDES formats help receiving systems present billing information in a more coherent and standardized format, making them considerably easier to review – a win for firms looking to receive payment faster.

Thus, UTBMS codes provide a standardized classification for legal services and expenses. The LEDES format is used to produce UTBMS-coded invoices in a uniform format.
By incorporating both of these tools into the billing process, firms and clients can more easily make sense of vital cost and performance data.
"Moneyball" for Lawyers
A recent article in a state bar journal poses the question, "When it comes to optimizing your practice, do you trust your gut? Don't. If you aren't using data to measure what works and what doesn't, you can't be sure you're winning the game. The good news: your practice generates the data you need to gauge success and adjust as needed."
In fact, billing data can be used to tweak work going forward for optimal results – much the way similar information was used in the movie "Moneyball."
UTBMS/LEDES coding is designed to high- light metrics for law firms to use to measure their internal profitability and productivity, as well as provide an easily reviewable break- down of completed tasks and expenses, thereby promoting transparency for the firm and clients alike.
Using this data, law firms can immediately see if a specific task is taking more time than would be considered reasonable. Not only does this allow the firm to course-correct the issue in real-time, but it also makes it a point of focus that may require additional attention moving forward.
The International In-house Counsel Journal makes the case that, "a process that provides for actionable information from that data is central to being able to manage a legal department strategically and with greater efficiency. This is why the Uniform Task-Based Management System (UTBMS) code set is critical when looking at process improvements."
Similarly, a recent Legal Talk Network podcast discussed the usefulness of the implementation of data-driven practices at law firms, noting that "using data to determine the best strategy in front of a judge, to size up your opposition, to understand how long it's going to take to do your budgeting, all that is part of winning cases."
The need for improved efficiency is a never-ending pursuit. Making important decisions based on inaccurate information can be disastrous in most situations, but especially so for law firms. Conversely, the application of uniformly expressed and accurate data can be pivotal in making better-informed decisions.
Using UTBMS/LEDES standards provide a leap forward in that regard – so much so that the adoption of the standards has been increasing by leaps and bounds in recent years.
However, UTBMS codes are very often not uniformly applied, and are in desperate need of standardization in their precise use.
Inaccurate selections of codes, frequent use of catch-all codes, and inconsistent associations of tasks and codes taint the viability of data produced. This level of inaccuracy is unacceptable for data analysis purposes.
Course of Action
According to a recent legal billing and predictive coding report released by Deloitte, "current technology advances are providing opportunities to better measure, manage and optimize legal spend, even while leveraging conventional management tools… These advancements are expected to enhance management activities for both corporate law departments and law firms, and potentially allow the promise of activity-based management for legal activities to become better realized."
Applications like OnIt, Thompson Reuters' Legal Tracker (Serengeti), LexisNexis' CounselLink, and Wolters Kluwer's TyMetrix 360° all allow clients to receive bills from outside counsel and allow firms to track invoices and payments.
For law firms looking to take advantage of the benefits of UTBMS coding and LEDES formatted invoices, applications like Clio, RocketMatter, PracticePanther, ActionStep, and Timeslips all offer this functionality.
However, most of these applications necessitate the manual selection of UTBMS codes for their corresponding tasks or expenses using pull-down menus.  This still allows for inevitable human errors and idiosyncrasies, which in turn damage the very standardization that makes billing data so valuable.
However, the use of UTBMS codes can be improved with the help of computers.  Albeit in a different context, a recent Case Crunch lawyer challenge highlights the value of using computers to analyze and organize disparate data sets.
The challenge consisted of 100 commercial lawyers taking on the Case Crunch computer program. All of the competitors were given the facts of hundreds of the same type of lawsuit. The goal of the experiment was to see whether a computer program or real lawyers would more accurately predict if the claims would be allowed. Of the 775 predictions, the real lawyers achieved 66.3% accuracy. The computer's accuracy rate was 86.6%, making it the decisive winner.
The combination of internal litigation records and the billing data of related cases allows law firms to cross-reference information and see what is and isn't working. This makes standardized and uniform billing practices a process with benefits exceeding just the billing department.
Optimize Legal Billing Management
Ensuring proper billing is not just the purview of in-house legal departments. It is also an ethical responsibility that must be maintained by outside counsel submitting invoices for payment.
As such, it is time-consuming for both law firms and clients to properly manage invoicing and payment.
Between the already un-billable time of billing itself, and the additional time consumed with invoice review every month, law firms and clients that don't implement an accurate and organized system to help them manage their billing needs will continue to lose out.
Standardized Billing
A recent American Bar Association article recommends that in-house legal departments should follow a checklist when tackling outside counsel billing:
Hiring the right outside counsel
Set outside counsel guidelines
Implement legal project management
Insource and outsource legal work
Analyze matter outcome
Terminate underperforming outside counsel
Similarly, a recent report from the Association of Corporate Counsel advances the idea that law departments can better work towards their goal of maintaining reasonable billing practices by incorporating standardization to outside counsel management and billing. Trying to use competing systems will likely only lead to compliance issues, different coding approaches, varying ideas of what constitutes reasonable service charges, and just general, needless confusion for both clients and their outside counsel.
Fortunately, it is easier than ever to optimize the management of invoicing and payment.
The "Latest Trends and Best Practices in Managing Outside Counsel" report issued by Thomson Reuters describes how automation can cut down on billing disputes by highlighting the exact point of contention.   Additionally, the report reinforces the fact that automate legal billing makes the process of reviewing invoices much faster and easier. The faster the invoice is reviewed, the faster payment can be made.
Billing applications that are bolstered by automation and machine learning often emphasize their ability to automatically standardize time and expense entries. Law firms making use of these applications are showing significant increases in efficiency.  Moreover, legal departments are using these tools to find more data-centric solutions to existing efficiency and productivity issues.
Not only does automation make the billing process easier for law firms, but it also provides in-house counsel with the ability to quickly compare billing data between two firms. This side by side comparison makes it easier to spot discrepancies that may have otherwise gone unnoticed.
Efficiency and transparency are essential to improving working relationships between law firms and outside counsel. Artificial intelligence and machine learning produce efficiency and transparency that manual billing simply cannot match.
Increase Law Firm Profitability
If a law firm can produce accurate bills that comply with all obligations in a faster manner, logic suggests they would be able to receive payment at a commensurate rate.
This would mean, theoretically, that faster billing equates to better cash flow and greater profits.
The law practice and advisory podcast The Un-Billable Hour suggests finding out how many days it takes to produce a bill compared to how long it takes to get paid for that bill and optimizing the process as much as possible.
However, the intricacy of legal billing is a large part of what makes cash flow for law firms slower than other industries. This is why online billing applications that offer automated solutions are so beneficial. They speed up the very aspect of the process that is uniquely troublesome for law firms.
Evaluate Billing Data
The Un-Billable Hour goes on to explain the fact that a large portion of a law firm's lost time comes from things like "disorganization, slow response to clients, late billing invoices and not tracking time," with lawyers pressed to get bills out each month, these stumbling blocks are particularly unwelcome.
The idea of simply raising billing rates to increase revenue has been shown to be largely ineffective. According to a recent Georgetown Law survey, "clients continued to push back on rate increases, keeping pressure on the realization rates that firms were able to achieve."
Raising prices is not the solution. It doesn't matter how high you raise hourly rates if clients won't pay them. If the hourly rate goes up, but the number of hours billed goes down it doesn't improve profitability.
Nevertheless, according to Major, Lindsey & Africa's 2018 Industry Outlook report, law firms are missing opportunities to analyze "productivity and growth, spot emerging business trends and build new pricing models," in ways that could increase profitability.
Fortunately, improvements brought about by data-driven solutions more efficiently improve profitability while also cutting down on legal spend.  Data-driven solutions are designed to increase profits and productivity by improving the way firms make money – i.e., improving realization and collection rates.
The real-time insights provided by such applications help law firms make smarter decisions and cut down on redundancy and waste.  These applications allow law firms to increase their bottom line without increasing hourly rates.
Identify Loss of Billable Time
When it comes to collection rates, on average, "law firms are collecting only 83.5 cents for every $1.00 of standard time they record" according to the Georgetown Law survey.
The survey further states that multi-year collection rates remain on the decline despite the fact that the economy has improved since the 2008 financial upheaval.
Similarly, Clio's 2019 Legal Trends Report notes that smaller law firms collect on even fewer billable hours per day, with many firms losing over 6 hours every day.
Although some of these losses can be attributed to clients failing to pay their bills, a notable portion of the losses comes from the necessity to complete time-consuming non-billable tasks like billing entry and review.
Data-driven solutions can help pinpoint the source of a firm's losses and help them come up with a plan to better allocate resources to optimize efficiency and thereby improve profits moving forward.
Conclusion
The use of UTBMS codes and LEDES formatting can provide a firm or legal department with an introspective look not only into billing practices but time management in all aspects of legal work.
The best way to fix a problem is to identify it. These standards make that considerably easier. The transparency these standards provide has the added effect of simplifying billing review for clients, because the standardization cuts down on the rate of billing disputes.
Furthermore, when coupled with artificial intelligence (AI) and machine learning, their implementation becomes even easier and more efficient. New AI and machine learning technologies will push the legal profession forward in more efficient and productive ways, increasing profitability without the headache of constantly raising hourly rates.
The predictive nature of data-driven solutions helps both law firms and clients focus their attention on issues that have proven to affect previous outcomes, and cut down on wasted effort and resources in matters yet to come.